What Does It Cost To Purchase A Home In Arizona
Most people don't know what the true cost of purchasing a home in Arizona is.
Let's go over some of the costs of purchasing a home in AZ:

The first fee you are going to experience is right after your offer gets accepted on the home you are purchasing. Within 24 hours of getting a fully signed contract on the home, you're purchasing you will have to put down an "Earnest Money Deposit".
What is Earnest Money? It's a "Good Faith" deposit showing the Seller that you are serious about purchasing the home and plan to move forward.
This fee is held in a local Title Company which is a "Neutral" third party to the transaction. The cool part is, you get the money back as long as the transaction closes. That money will be applied toward your down payment, your closing costs or even, depending on your loan program, can be put back into your pocket at closing.
***IMPORTANT*** There are areas in the contract where you are protected even if you don't purchase the property. During certain situations, you will get your earnest money back. For example, during your "Inspection Period" or during the "Appraisal" process (all to be discussed in full detail in an email coming soon).
Your Earnest Money deposit is typically about 1% of the purchase price. If you are buying (just to make the math easy), a $200,000 home, your earnest deposit will be $2,000. There is no set amount, and I will do everything I can to get this amount as low as possible for you, but I want you to be prepared for the industry standard.
Again, your Earnest Money is due 24 hours after your offer is accepted and will be deducted from your account and placed with the Title Company's (the Neutral 3rd party that performs the closing here in Arizona) account, so you will need to be prepared for that.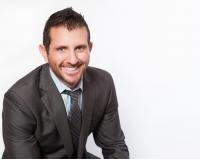 Author:
Joshua Smith
Phone:
623-703-7445
Dated:
February 27th 2017
Views:
1,332
About Joshua: ...