The Inspection Process Of Buying A Home
Today we are going to discuss the process and costs of Home Inspections.

After your offer is accepted, we will have 10 days to complete our inspections. In nearly every case, 10 days is more than enough time to complete these.
The two most common inspections performed here in Arizona are the "Professional Property Home Inspection" and "Termite Inspection".
Just so you are aware, at your request, my team can set these inspections up for you to take that worry off of your shoulders.
The Professional Property Home Inspection is performed by a licensed, Professional Home Inspector, and they are looking for any problems the home may have. Think of a Home Inspector like your Family Doctor. They are not a "Specialist" but instead are looking for any red flags. If they do identify any "Red Flags", you would need to then bring in a specialist to look a little deeper into the issue.
So, any "Red Flags" that we see, if big Red Flags like Air Conditioner or Roof Issues
 we then would want to get the "Specialist" out to inspect further. Home Inspections, depending on the size of the home, pool, and so forth, usually cost around $350.
The second inspection type is the Termite inspection. If you don't already know this
 there are two types of homes in Arizona. Ones that have Termites, and ones that will get termites. The good news is that termites here in Arizona are not a big issue and are easily treatable (unlike other States/Areas) The Termite inspection usually costs around $80.
At the end of our inspections, we then have the ability to go to the Seller and say "We found these items wrong with the property and we would like these fixed
". There is no guarantee that they will agree, but this is up for negotiations and I will fight for you to get the items taken care of!
So, to recap on your out of pocket expenses up to this point (if the purchase price of the home is $200,000):
- My Fees = $0 (100% FREE)
- Earnest Deposit $2K
- Home Inspection $350
- Termite Inspection $80
If you have any questions about the home buying process, don't hesitate to reach out to me!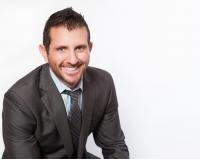 Author:
Joshua Smith
Phone:
623-703-7445
Dated:
March 22nd 2017
Views:
94
About Joshua: ...